BABES Spring 2022
Here at Babe Central, we are doing our best to stay healthy and well. We hope you are doing the same! Sally Fingerett, Debi Smith, Deirdre Flint, and Christine Lavin, send their love from OH. VA. PA. NY respectively until they return to a concert hall near you. Their music is still available, in theCD SHOP!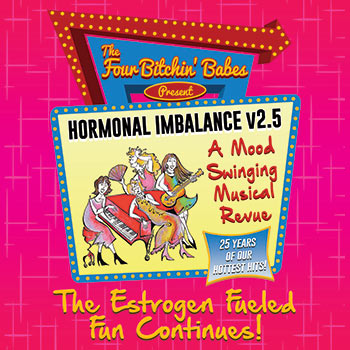 What is a Babes Show Like?
The Four Bitchin' Babes are four accomplished and seasoned musician-actress comediennes, who together, create a tour'de force musical comedy theatre troupe. Touring and recording for 25 years, they fill the stage with whimsical songs and shtick, presenting the hippest and most luxurious girl group harmonies "evah!" Playing their own guitars, bass, piano, and Irish Bodhran, this hilarious renegade sorority of gal pals perform original songs and stories offering both poignant views and unbridled comedic commentary on the joys and dilemmas of everyday life. With their elegant wit, sophisticated (never blue) stand-up humor, and enough bling to hypnotize the first five rows of any theatre, creating an evening of wildly fun and raucous delight!
So much new stuff!!! COME CHECK US OUT!